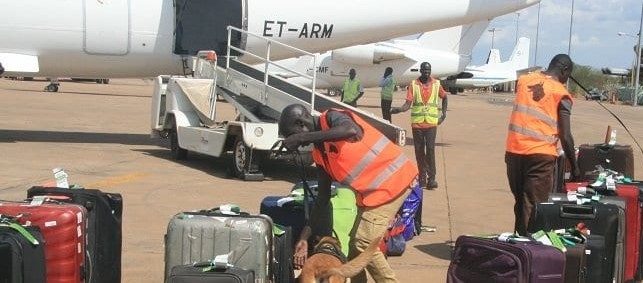 File photo
Wildlife officers at Juba International Airport on Thursday seized a large quantity of wild animal skins from smugglers, wildlife officials have said.
Rizik Zachariah Hassan, South Sudan's Minister of Wildlife Conservation and Tourism, told reporters that the officers found 255 pieces of wild animal skins that had been on a flight from South Africa to South Sudan.
"It is a serious type of crime. The animal skins were smuggled from South Africa and the items were being taken to another country via Juba airport," Rizik Zachariah said. " It is a concern because South Sudan is becoming a smuggling hub, so the government of South Sudan should work hard to stop the illegal trade of wildlife."
According to the national minister, wildlife officers at the airport were working in coordination with the International police organization, Interpol to detect and seize the animal skins.
"The items were seized after being cleared by customs officials at Juba airport, so it means there is a network here. The government is working to stop this illegal practice because it is not good for the image of the country," he said.
Rizik underscored that those involved in the smuggling of wild animal skins will be sued under the wildlife law.
General Aldo Guake, the director-general for wildlife conservation, said:" The quantity of the animal skins we have seized is estimated at 328 kilograms. The items came from South Africa, and our officials at the airport managed to seize them," Aldo Guake said. "We have already started the legal procedures, and those involved in this crime will be arraigned in court."
In March 2018, the Ministry of Wildlife Conservation and Tourism banned all forms of wildlife hunting. It also banned the trade in hunting trophies as well as wildlife products like animal skins, meat, fur and bird feathers.