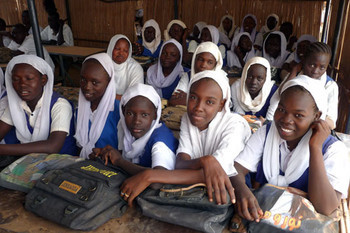 Girls at the Holy Spirit Save the Saveable School, Omdurman, Khartoum (file photo: Dabanga)
A 15-year-old South Sudanese refugee has passed with flying colors to become the second-best student in primary school leaving examinations of Khartoum state this year.
Mervet Hakim Kur, from Shehid Hamad Girls Primary School in Umbada, Khartoum scored 278 marks, a mere two marks shy of a possible 280 marks.
The teenager in an exclusive interview with Radio Tamazuj on phone from Khartoum said it was difficult adjusting to life in Khartoum after being displaced by the 2013 civil war in South Sudan.
"When violence erupted in Renk in 2014, we came here in Khartoum and it was difficult for me to join school due to language issues. My mother used to teach us Arabic alphabets at home and I had to repeat primary three all over again here, but in Arabic," Hakim explained.
Hakim who hails from Renk town Upper Nile State started her education in English. She said that her passion for education and hard work contributed to her learning Arabic and her current success.
"I want to become a medical doctor in South Sudan. I want to treat people so they can be happy with me. I want to make my dad happy and make him proud," she said.
She describes her success as a great achievement not only for her family but for the entire South Sudan, which, she says, is lacking in education.
"I am thinking of going back but I can't go while there is no stability there. I don't want to go back and again begin to run due to war," Hakim said while showing empathy with fellow students who cannot go to school due to the instability in South Sudan.
She thanked her parents for supporting her in her studies years, despite many hurdles along the way.
Hakim called on her fellow South Sudanese pupils in Sudan facing language challenges to keep working hard saying, "Nothing is impossible. Let them work hard and they will make it."Share
Radio Tamazuj