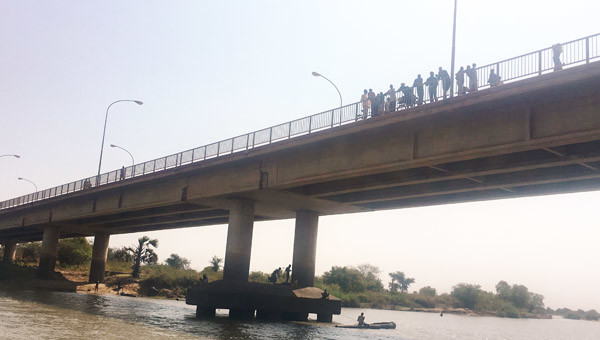 Jur River Bridge in Wau, December 2016 [Photo by James Dimo-Gurtong]
South Sudan and China Thursday signed a new cooperation deal for the renovation of the Jur River Bridge linking Juba to the Bahr el Ghazal region and its northern neighbor Sudan.
Speaking during the signing ceremony on Thursday in Juba, Chinese ambassador to South Sudan Hua Ning told reporters the project is already underway with the first shipment of construction materials arriving from China soon.
"I am very pleased to join the signing ceremony of the Jur River Bridge Project, which demonstrates the Chinese government's firm commitment to the future development of our cooperation, friendship, and our support for the long-term development of South Sudan," he said.
Ning hailed the South Sudanese government for establishing the Economic Crisis Committee saying it is the right step towards economic recovery.
"China is happy to extend her helping hand for the economic recovery and we are also mobilizing necessary resources for the future development of South Sudan's economy," Ning said.
He also mentioned that bridges and highways are essential for stimulating economic growth and attracting foreign direct investments to South Sudan.
For his part, the national Minister of Roads and Bridges, Simon Mijok Mijak, said the bridge will benefit the Greater Bahr el Ghazal region.
"The signing today is a cornerstone of our strong and unshakeable relationship between South Sudan and China. This is another tremendous achievement of the government for the people of South Sudan," Mijok said.
In 2019, President Kiir while visiting Beijing signed an initial agreement for the renovation of the Jur River Bridge.
Jur River Bridge was built in 1973 and has since developed technical problems.Share this SouthSudan RSS News Feed | Contact | Disclaimer© Radio Tamazuj