Controversial socialite Amira Ali fined for defamation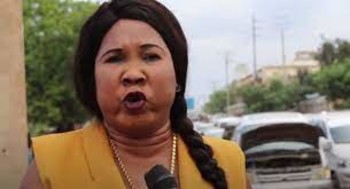 File photo: Amira Ali
Controversial socialite Amira Ali has been ordered by a court in Juba to pay a fine or face six months in jail after she was found guilty of insulting a former government official on Facebook.
Amira Ali Thomas – commonly referred to as Mama Amira – has been ordered by the court to pay a fine of 35 million South Sudanese Pounds (SSP) to the former Warrap State Information Minister Nyanaguek Kuol as compensation for publicly insulting her family.
"The convict Amira Ali Thomas faces six months in jail for violating Article 289 of the Penal Code. However, due to her health conditions, she must only pay a fine of 100,000 SSP," said Angolie Okomu, the presiding judge.
He added, "The convict must pay to the complainant 35 million South Sudanese Pounds as compensation for the damages incurred."
The plaintiff's husband, Dr. Ajak Makur, praised the court's decision on Monday, saying his family deserves compensation for the damage caused by the insults. He further appealed to citizens to desist from turning online media such as Facebook into platforms for hate speech.
Nyenagwek's lawyer Mr. Monyluak Aguer also hailed the court's verdict. "I welcome the court decision charging Amira Ali with defamation. But I think the court was lenient because a defamer in such cases can be sentenced to at least two years in prison according to the law," he said.
The defense lawyer, however, said the verdict was unfair.
Article 289 of the Penal Code 2008 states that whoever, by words either spoken or reproduced by any mechanical means or intended to be read or by signs or by visible representations makes or publishes any imputation concerning any person, intending to harm or knowing or having reason to believe that such imputation will harm the reputation of such person, is said, save as hereinafter excepted, to defame that person.
It further says whoever defames another person commits an offence and upon conviction, shall be sentenced to imprisonment for a term not exceeding two years or with a fine or with both.