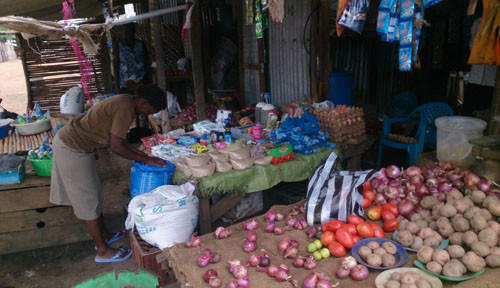 Market in Torit [File photo/Gurtong]
Many people in South Sudan's Eastern Equatoria state have complained of a rising cost of living they are encountering with the current economic hardship they undergo with their families.
South Sudan's economy, which relies almost exclusively on oil revenues, has been battered by a drop in global crude prices, driving prices of essential commodities higher. The central bank announced last month that the government had nearly run out of foreign cash reserves.
In several interviews conducted by Radio Tamazuj this week, residents from the state complain of skyrocketing prices in the market which they say makes their lives increasingly more difficult.

"I went to the market. I found the prices of goods have become very expensive. A bottle of oil is now 300 SSP, 4 spoons of paste is now 100 SSP which is not enough, you may go to the market with 500 SSP but this will not be enough for home consumption," said Grace Mami, a resident of Mairo area in Torit town. "I need the government to reduce the price of dollars because things are now very expensive and majorities are not working and they are not able to get this kind of money. I am also appealing to traders to reduce the prices."

According to Mami, she could not afford food items for her family with the current market prices. She called upon the government to regulate the prices in the market.

Currently, the dollar exchange rate in South Sudan stands around 50,000 SSP to 100 USD in the country's black market.

Ikang Elizabeth, another resident of Ikotos County also said the prices have gone beyond imagination adding that the population remains helpless except for government intervention.

"If you go to the market here, you will get everything very expensive. The small sack of flour 25kgs is at 6,000 SSP, and they could measure less than a quarter of litre for cooking oil at 40 SSP. This is the cause of suffering here in Ikotos. It was good in the past," Elizabeth said. "It is only those who receive dollars who are the one eating this food and the majority of us are now suffering, there is nothing I can do but this needs the government to do something."

Elizabeth said women are suffering from the collection of firewood for sale on a daily basis in order to support their families but at the end, the money will not be enough to buy food for consumption.
"Our life in this country is that, we are always moving for firewood's, cutting grass, we cultivated sorghum but it has been destroyed," she said. "We are suffering, especially us women."
Michael Abuni, the chairperson for Chamber of Commerce in Nimule town council of Eastern Equatoria State said traders are getting challenges in procuring goods from Uganda citing dependency on foreign products as the cause of suffering.

"In reality, the economic situation is very bad because the prices are going higher," Abuni said. "Most of the things like the floor come from Uganda that is why it is very expensive and the citizens cannot manage."

The local official also cited low yield in agricultural products this year and that is why everything is now being brought from Uganda.

Asma Mohamed, a trader in Kapoeta town also blames the inconsistency of hard currency against the South Sudanese Pounds across the country.

"With this dollar crisis, it is hard to continue with the business. If there was a place where we could buy goods in pounds, it would have been better; goods are now being bought using dollars from outside," said Mohamed.

Mohamed said some traders have even closed their shops and just stayed at home. "There is no way. That is why the poor are just dying because of the dollar," she said.

The chairperson for Eastern Equatoria state chamber of commerce, Lilly Hidita Nartisio said she has received a report on the increase of prices in the market, instead, she criticizes traders for using this economic hardship as an opportunity to charge prices on their own.

Hidita urges traders to make gradual changes in order to help the innocent people, saying the issue of prices is beyond their capacity.

Jamal Ahmed Ardab, another businessman in Torit town says he is worried about the inconsistency of dollar rate against the local currency, saying it will cause most traders to close their shops if the situation continues the same.

"There is a problem of the dollar in Juba every day; we bring things from Juba at increased prices. The issue of dollars now is not stable, in a day you may get it at 40,000 SSP, tomorrow 42,000 SSP and another day, it may rise to 43,000 SSP, and this is a problem in business," he said.

According to the World Bank, the damage of high inflation can fall disproportionately on the poor, since poorer households are more reliant on wage income, have less access to interest-bearing accounts, and are unlikely to have significant holdings of financial or real assets apart from cash.

Ahmed further said they are not making any profits but instead losses due to the instability of the exchange rate in the main market.

"If the situation continues like this, 50kgs of sugar is now 15,800 SSP but two days earlier it was 14,000 SSP, a bag of rice of small size is now 9,300 SSP which was 7,000 SSP and this will allow some of us to close completely."

The Executive Officer for Torit Municipal Council, James Logutta Gabriel says the municipality is not aware of new developments in the market.

James says the government will look into the matter as a committee to identify the challenges in the market.

"As government, we will see this issue because they traders cannot just add prices without our notice if the prices have increased, we don't know as a committee, we will see this issue," Gabriel said. "We really cannot force traders as a government, we will go there for assessment, it is not an easy thing that can be finished in a day."

According to the economist and also a lecturer at Equatoria International University in Torit, Ihude Oduho said the inflation has ravaged the country, saying the economic crisis is driven by the shortage of food commodities.

Ihude adds that the salary of civil servants who constitute the highest manpower in the country is not increasing contrary to prices, adding to the high scale suffering.

The economist recommends confidence in the peace process while putting in place economic reforms in the country that puts in place accountability.

"There is a need to get confidence in the political trend and development in the peace process, secondly there should be economic reforms and it has to do with increasing revenues on both oil and non-oil. The central bank also needs to get part of the reform packages," Oduho said. "The issue of handling the circulation of foreign currencies in the black market and then getting these currencies to boost local production like agriculture and other sectors remained unsupportive to the economy."

Francis Okongo, another resident in Lafon says their living situation is always on casual works because there is nothing to survive on.

"We are just surviving on the little we have cultivated, traders have now put the prices of goods in the market high according to the current situation, even those making local brew like white-staff (kwete) will also add something on top to buy something. Earlier a bag of charcoal was 1,000 SSP but now, it is 1,500 SSP," said Okongo.

He said the price concerns in the market is a national issue that can be solved when there is peace in the country and now, they cannot pressure traders to reduce prices.

"We also know our traders who bring goods to us, they bring goods at expensive prices and we cannot pressure them to reduce prices," Okongo said. "If the original peace comes, all these will come down."Share this SouthSudan RSS News Feed | Contact | Disclaimer© Radio Tamazuj